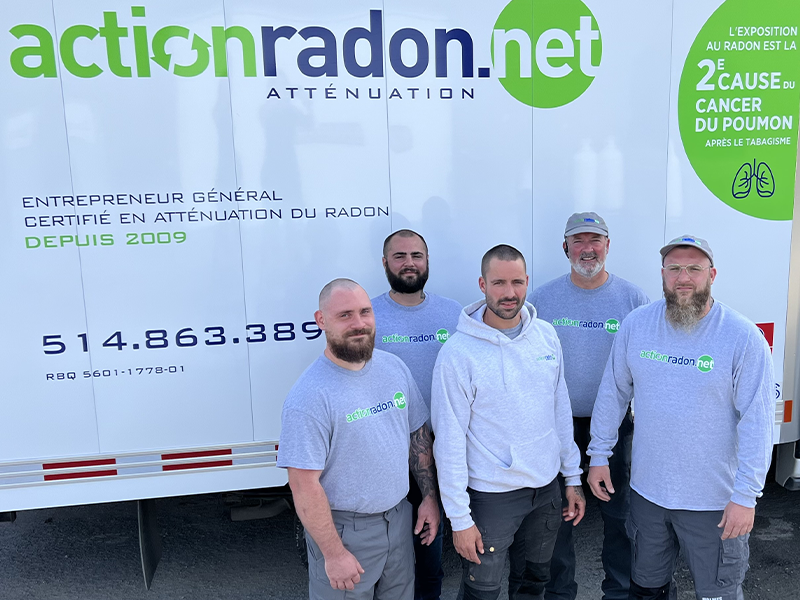 What sets us apart:
Our two factory trucks allow us to provide ultra-fast service, because we know that time is of the essence for you.
Who we are :
Our team is young, professional and attentive to your needs. We are creative and experienced. We will find the least invasive place to install your system and we work very cleanly.
Joël Valois, BAA
President, owner and founder
C-NRPP/PNCR-C: CRMT-201023
Our reputation speaks for itself,
Let our satisfied customers testify to our professionalism.
"Exceptional service from start to finish. Joel came quickly to make an assessment and establish an estimate. On the day of the installation, the crew arrived early and completed the job quickly and without much disruption. They were polite and efficient and explained everything clearly. In only 48 hours, our radon readings went from 550 to less than 10, we are very happy! Thank you!"

Caroline Carter
"We just had Action Radon come in and do an attenuation pump in our basement. They arrived early, worked hard and completed a professional looking job very quickly. They did everything in their power to help locate the pump in a discreet part of the house and took their time to explain how the system worked. It's a little quieter than I expected and with a good location, you'd hardly know it was there. I will have to monitor over the next few months to see how radon levels have changed, but I have every reason to believe that this will help considerably and I appreciate the peace of mind as I write this review from my basement office. I can't recommend Action Radon enough."

David Newton
"Action Radon was a good choice on all counts. They responded quickly to our request for a quote, a representative came at no charge to give us an exact estimate of the cost of the work, their price was the most advantageous compared to other companies we had contacted, the installation of the depressurization system was done quickly by an expert team."

Rositsa Boyadjieva
"Excellent service, fast and efficient. The installation team took the time to explain the operation of the mitigation system and the precautions to be taken. The whole thing took 2 hours and the employees cleaned everything up. We went from 600 becquerels/cubic meter to less than 100. Thank you Action-radon!"

Sylvain Lévesque
"I wanted to thank you, your partner and your team for the excellent work done at our home.
Your team had to deal with a bad starter installation in the foundation slab, they found an innovative solution, modified and delivered a very efficient system.
And moreover without EXTRA and with a smile.

After 24 hours, the level went from 820 to 50.

I will recommend you without any problem.

Thanks again for your help"

Michael Descheneaux
"Work and follow-up completed in a very professional manner by Mr. Valois. The contract was clear and specific about exclusions and inclusions. At every step of the process, Mr. Valois was able to answer all my questions and always returned my calls in a very timely (24-48 hours) and courteous manner. I am very satisfied with the services rendered and the professionalism of ActionRadon.net. I highly recommend them."

Stéphanie Richard